Open Everyday!
Sunday to Wednesday 9:00am to 6:00pm
and
Thursday to Saturday
8:00am to 7:00pm
~ April 15th to June 15
9:00am to 6:00pm ~ The rest of the year
KLINGER FARM MARKET
Garden Center & Greenhouse
Chippewa Falls, Wisconsin
Located 6 1/2 miles North of Chippewa Falls, WI on HWY 124 is Klinger Farm Market.
Klinger Farm Market is a 5th Generation farm in business for over 100 years. With Each change of the season brings an exciting change to the farm. From early spring bedding plants to winter featuring Christmas trees and decorative wreaths each season at Klinger's unique in its own way.

  Come Spring the store is filled with bulk and prepackaged seeds, seed potatoes and just about everything else to start your garden. With 18 greenhouses full we grow one of the biggest selections of annual and perennial plants around.

 Summer is a great time for fresh, hand-picked, homegrown produce. Included in our 50 acre garden we grow multiple varieties of potatoes, peas, beans, tomatoes, multiple varieties of peppers, our well known fresh sweet corn and lots of other homegrown produce all available by the pound or by bushel.

As the season changes to Fall we are in full swing with a 5 acre corn maze and family fun area. Try your hand at pumpkin bowling or gourd tic tac toe. Decorate for the fall with fall garden mums, gourds, pumpkins, colored corn, broomcorn and other fun fall items.

 Winter offers a time to watch the birds, take care of your pets and wildlife. Multiple varieties of birdseed and bird feeders are available. Christmas greenery, Christmas trees, unique holiday decorations and hand decorated wreaths can be found this time of year. Offering old fashioned hard Christmas candy, chocolate covered angel food and specialty candies make your holiday season complete.
COME VISIT US
12756 132nd Street, 

Chippewa Falls, Wisconsin
(715) 288-6348
---
50 Acres of Fresh Produce
Local Grown Greenery & Christmas Trees
April – Annual greenhouse Open House is the last full weekend in April
"It's fun stopping by here whenever we are in town.  Family-owned, Klinger Farm Market has a wide range of local products to choose from.
Fresh produce, general store-like treats (my favorite are the chocolate-covered nuts and wide range of candies), and even an expansive plant nursery in the back are all available alongside friendly customer service.
Call ahead for hours of operation as they change seasonally.  Prices are comparable to that of Gordy's or IGA but more than Wal-mart or other big box stores."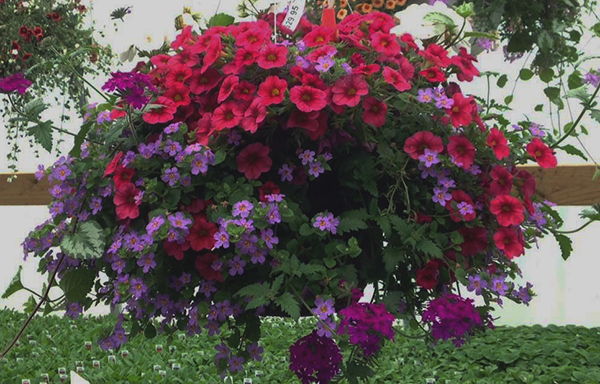 Let's Build Your Dream Garden Together!
Have a question or need assistance? Contact us for all your gardening needs!